Stay Updated on
Everything Live Oak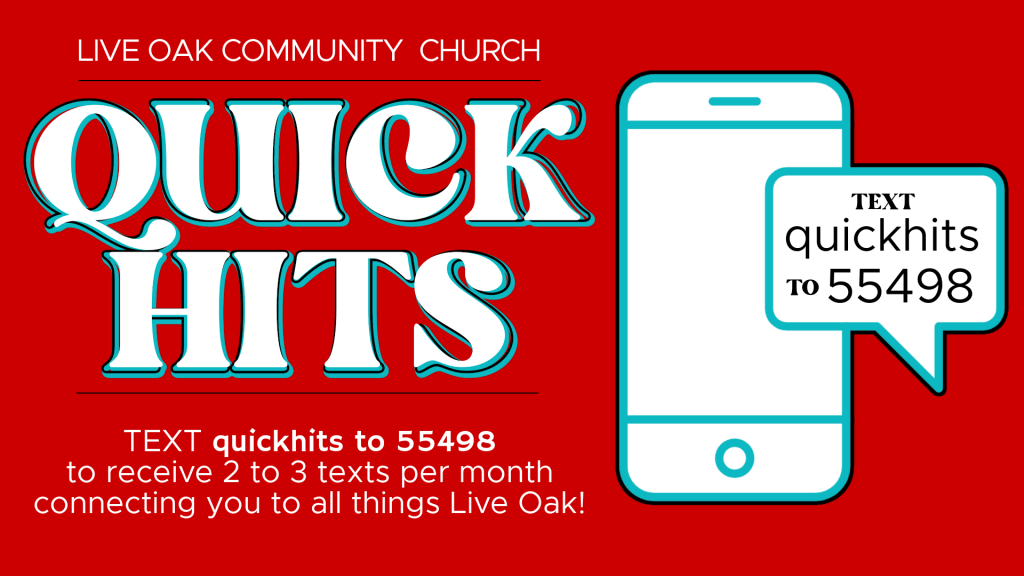 Stay updated on the latest in Live Oak life with Live Oak Quick Hits!  What you need to know... *Once you opt-in you will receive Quick Hits as a text *We send only 2 to 3 texts in a month *We won't spam you! *Our heart is to help you meaningfully connect you to both...
read more
Usual Weekly Schedule
Sundays: 
In-Person Services @ 9:30am & 11:00am with Kids Min for babies-5th Grade at both
LIVESTREAMS of our main services @ 9:30am, 11:00am & 8:30pm. "Sunday at Home" for preK-5th can be found HERE)
Tuesdays:
College Ministry
Click here for details
Wednesdays:
LOSM
(Live Oak Student Ministry for 6th-12th graders)
Click here for details
Adult Small Groups:
Meet throughout the week Sept-May
Click here for details
Stay In the Know About All Things Live Oak...
Worship With Us
SUNDAYS
In-Person 9:30am / 11:00am
LiveStreams 9:30am / 11:00am/ 8:30pm
Location
10710 Frankford Avenue
Lubbock, TX 79424
MAP IT